Come flying!
Updated following sale!
I used to own a Socata TB200 GT aircraft, 4/5 seater, 200hp injection, fixed gear single.
Cruise speed up to 130 kts (150 mph). Very comfortable and well-equipped.
It was available for hire near Oxford: solo hire, or I could have flown you. I have a Private Pilot's Licence
with IMC (can fly on instruments) and night rating. Oxford looks great from the air!
>>> so does Cornwall - I now live in St Ives! Pop down to Perranporth and we'll go for a ride there.
Get in touch for more details: Contact me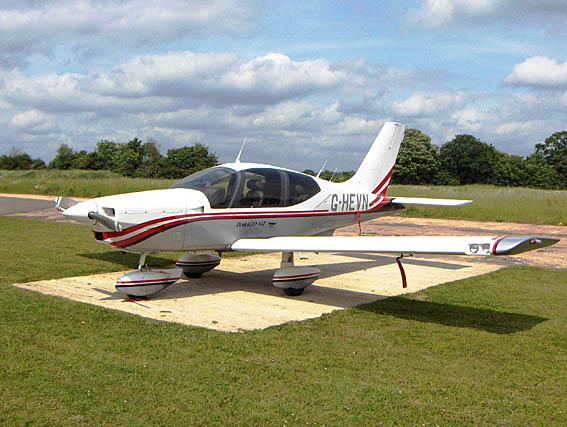 N.B. Certified for 5 passengers, but carefully note weight limits:
735lbs maximum take-off load, to include people, bags and fuel. That is 52 stone.
Full tanks = 206 litres = 330 lbs = 23.5 stone, leaving only 29 stone for people and bags.
Full tanks gives 4.6 hours duration at max cruise (use 120kts for calculations).
Range on full tanks = 460 nm (with 45mins endurance remaining at destination.
Half tanks = 120 litres = 192 lbs allows 39 stone for people and bags.
Range on half tanks = 230 nm (with 45mins endurance remaining)
Bendix King IFR equipped Instrument Panel (scroll down to see list of instruments below picture)
Panel Instruments and cockpit fittings:
HSI linked to GPS or NAV, Autopilot (Alt hold) with NAV and APR, VOR/ILS, DME, ADF, XPDR, 2x NAVCOM, 2x Altimeter, 2x AI
KLN94 GPS (IFR), KMD150 GPS (VFR), Stormscope
Airborne hours meter, master on/off hours meter
Sockets for 5 headsets, Bose headset plug
2x music inputs, allows separate music for crew and passengers!
Inertia reel seatbelts for five, optional third rear seat or central drinks holder